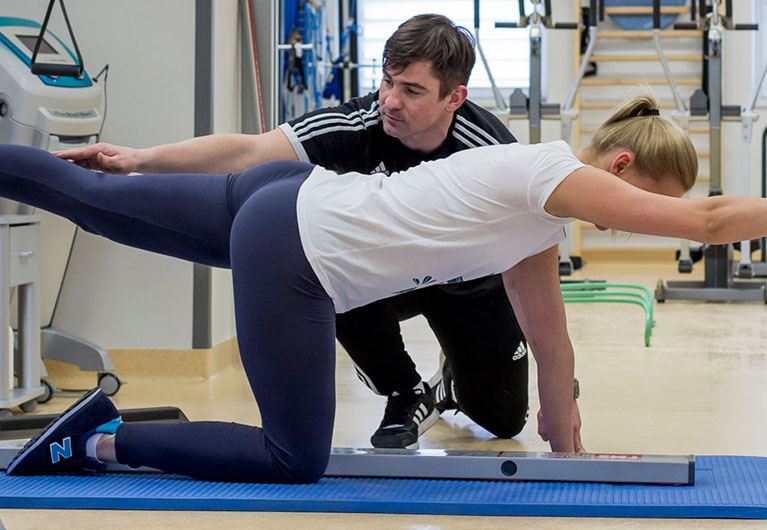 During a workout, the body is subjected to gradually increasing weights. This helps adaptation and improvement in motor system functions. A well-designed workout combined with a proper diet can also help build muscle mass or reduce fatty tissue. Regular training also helps to increase the total lungs capacity (or TLC) and maximum lung ventilation.
Check our products and services
Keiser Functional Trainer
This is a multi-purpose unit designed for functional training of the whole body. This device is used for training by sportspeople, people with a history of injuries or elderly people who want to improve their well-being in a short time. It can be used to perform simple symmetrical and asymmetrical exercises at any angle, with any resistance and speed, which helps to improve your physical working capacity.
Exercise bikes and a treadmill
An exercise bike can help you strengthen your leg muscles. This can also help you increase your body's physical working capacity and general fitness. This form of exercise is also a good way to lose some excess fatty tissue and to shape your body. A treadmill means a few forms of training: aerobic training, strength training or interval training.
Bicycle ergometer
This training device allows you to stay fit. In addition to its recreation function, a bicycle ergometer can be used in the rehabilitation of motor system disorders. It comes with a meter to measure the calories you burn while training, which is also useful if you are trying to lose weight.
Functional training
This form of training lets you recover your body's motor function through customised functional workouts.
Individual workouts
An individual workout helps to regain correct joint mobility and to prevent contractures of muscle tissue, tendons and ligaments. Such workouts are intended for people with spinal problems, after injuries, stroke patients or patients after orthopaedic surgery.
Group workouts
Group workouts are offered to a group of patients with similar health problems. Working out in a group motivates the group members to achieve the best possible results.