Rehabilitation for people of all ages
At BetaMed MAC, physical therapy treatments are provided by a team of experienced physical therapy professionals, and the effectiveness of treatment is subject to assessed according to objective criteria. We have specialist equipment that helps us deliver the results that patients expect.

BetaMed Medical Active Care has all it takes to cater for patients of all ages.

We offer three rehabilitation services in three areas:
Medical Physiotherapy Area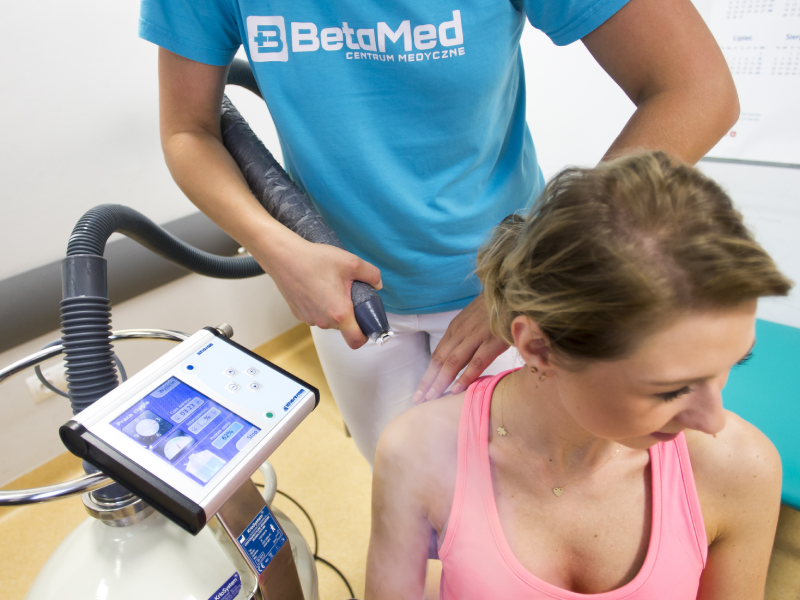 The purpose of medical physiotherapy is to restore the patient's physical and mental fitness and capacity for work and fully or as far as possible, and to improve their quality of life. This service is available to people of all ages, including professional sportspeople, patients with injuries, patients suffering from chronic disorders and pain-related problems.
The Medical Physiotherapy Area offers cryotherapy chambers. Cryotherapy helps to improve your health, accelerates skin renewal, prevents cellulite and improves the appearance of the skin. The cold in the chamber will increase the flow of blood in your body, which helps to deliver the rehabilitation objectives faster.
Call us and make an appointment:
☎️
+48 32 420 29 00
📱
+48 519 308 200
Training Zone

During a workout, the body is subjected to gradually increasing weights. This helps adaptation and improvement in motor system functions. A well-designed workout combined with a proper diet can also help build muscle mass or reduce fatty tissue. Regular training also helps to increase the total lungs capacity (or TLC) and maximum lung ventilation.
BetaMed Medical Centre offers a professional training area, with exercise bikes, a treadmill and an ergometer exercise bike. Our equipment also includes a Keiser Functional Trainer, which is used for high-performance training as well as recreation and rehabilitation. Individual or group exercise sessions are also available to all patients.
Call us and make an appointment:
☎️
+48 32 420 29 00
📱
+48 519 308 200
Regeneration and Relaxation Zone

Regeneration is an integral part of the treatment process and workouts. It allows you to relax all your muscles, is of benefit to your health in many ways and makes you feel better. This can help you relax after a hard day. You will recharge your betters and feel full of energy.
BetaMed Medical Centre's patients have access to manual therapy, therapeutic and relaxing massage treatments, hydrotherapy whirlpool treatments and chromotherapy, and more! Feel free to learn more about our services.
Call us and make an appointment:
☎️
+48 32 420 29 00
📱
+48 519 308 200
Our patients can choose from a number of rehabilitation packages suited to their needs:


Heel Spur Package
Cryotherapy Package
Shoulder Package
Spine Pain Syndromes Package
Pain Relief Package
Biological Regeneration Package
Active Senior Citizen Package
Post-Fracture Package
Cellulite Package
Runner Preparation Package
Runner Regeneration Package
Osteoporosis Package
Post-Mastectomy Patient's Package
Call us and make an appointment:
☎️
+48 32 420 29 00
📱
+48 519 308 200